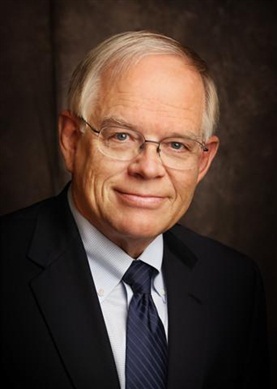 Craig M. Call

Chairman, Director, and Shareholder
In his thirty-five year career, Mr. Call has been involved in a variety of business and professional ventures. His legal work has focused on mediation and arbitration, real estate development issues, impact fees, eminent domain, legislation/administrative codes, and municipal law.
Education
Juris Doctor, J. Reuben Clark Law School, BYU (1976 - Charter Class).
Bachelor of Science: Business and Education, Brigham Young University (1972).
Experience
Mr. Call has had extensive experience in business, and before assuming the full-time practice of law used his legal and business education to further his work in retail petroleum, real estate redevelopment, and related industries. He also has long involvement in political and non-profit service.
From 1997 until 2007 he served as Utah's first Property Rights Ombudsman, where as a state employee he used his legal skills and knowledge to resolve thousands of disputes between property owners and local and state government entities. He originated the non-profit Utah Land Use Institute, which he continues to serve as Executive Director. Through the ULUI he published several books about Utah law and procedure. He also appeared before the Supreme Court of Utah as an amicus, on behalf of his State agency and the property owners of Utah.
In private practice since 2007, Mr. Call has assisted property owners, developers, small business owners and municipalities in resolving land use disputes, eminent domain matters and impact fee concerns. He has assisted small communities such as Providence, Utah in land use issues as well as larger cities and counties with code revisions and impact fee matters. On behalf of private property owners he has also been active in ensuring that land use applications are legally and appropriately reviewed. Using a variety of approaches in negotiation, mediation or arbitration through the Office of the Property Rights Ombudsman, or litigation, he has championed fair dealing and compliance with the law.
Mr. Call served for a time in the Utah State Legislature and on the Provo, Utah City Council. This has lead to an extended involvement in the drafting and enacting of significant legislation related to property rights and eminent domain. He continues to be involved in the crafting of appropriate amendments to state law and serves with an ongoing task force on land use regulation legislation sponsored by the Utah League of Cities and Towns and private land owners. He served on the Provo City Council and in the Utah State Legislature, where he chaired the Revenue and Taxation Committee in the House of Representatives. For a time he also managed a Utah Field Office for Congressman James V. Hansen (R-UT).
He has participated in training local government officials, property owners, and the public about land use regulation, impact fees, and eminent domain issues and has written books and publications on each of these subjects. He continues to conduct seminars and conferences on behalf of the Utah League of Cities and Towns, where he is the lead instructor on the land use appeals process. He is a regular presenter for state-wide training conducted by the League, as well as the Utah Chapter of the American Planning Association, the Utah Local Governments Trust, the Southern Utah Home Builders Association, the Utah State Bar, and others. He has also spoken on land use and eminent domain topics in Canada for the American Bar Association and the International Right-of-Way Association and in the People's Republic of China on behalf of the China Law Center at Yale University. Mr. Call also serves as an adjunct instructor at the Department of City and Municipal Planning, University of Utah, where he teaches planning law and procedure.
Mr. Call was also a member of the board of directors of Maverik Country Stores early in his career, and worked with the founders of Flying J Inc., the nation's largest chain of interstate fuel and convenience centers, from its beginnings. For several years he managed the land use permitting and approval process for Flying J across a number of states in dozens of communities nationwide. He has personally founded and managed several small businesses as an entrepreneur including retail merchandise, restaurant, and convenience store businesses. He has been a licensed general contractor and real estate broker.
He assisted in the redevelopment of several dozen historic buildings into a themed shopping center in Downtown Provo and was instrumental in the preservation of a number of landmark structures, including the Brigham Young Academy in Provo and the entire Chesterfield townsite in Idaho. Mr. Call was president of the Utah Heritage Foundation and chaired the Idaho Heritage Trust, both state-wide non-profit preservation organizations. The book he published for the Chesterfield Foundation won the best local history award from the Mormon History Association.
Honors and Awards
Utah Business Magazine Legal Elite, Real Property Law
J. Grant Iverson Service Award, Utah State Historical Society
Preservation Award, Utah Heritage Foundation
Outstanding Service to the Community, Faculty of the J. Reuben Clark Law School
Professional Associations
Admitted to practice before the Utah State Courts, the U.S. Federal Courts, and Supreme Court of the United States.
Utah State Bar, Real Property and Alternative Dispute Resolution Sections.
Utah Land Use Institute - Founder and Executive Director.
Utah Chapter, American Planning Association.
Publications
Resolving Land Use and Impact Fee Disputes: Utah's Innovative Ombudsman Program, The Urban Lawyer - The National Journal on State and Local Government Law, Fall 2010/Winter 2011.
Utah Land Use Training Handbook - 140 pp., Utah League of Cities and Towns, 2009. Lead author of publication vetted and polished by others. To be republished as the Utah Land Use Deskbook, 2011.
Utah Law of Eminent Domain - 280 pp., Utah Land Use Institute, 2008 - (updated annually).
Utah Impact Fee Handbook - 90 pp., Utah Land Use Institute, 2009 - (updated annually).
Alternative Dispute Resolution for Right-of-Way Acquisition Agents. 16 hour course with student manual, instructor manual, exams, and power point. International Right-of-Way Assn., 2006.
Utah Citizen's Guide to Land Use Regulation - 270 pp., Utah Department of Natural Resources, 2005.
Presentations and Speaking Engagements - 2011:
American Bar Association Annual Conference, Toronto, Canada.
Utah State Bar Association Annual Meeting, San Diego, CA.
Utah Chapter, American Planning Association.
Utah League of Cities and Towns - Appeal Authority Training (4 times).
Utah League of Cities and Towns - Spring and Fall Conferences.
Utah Chapter, American Public Works Association.
Southern Utah Home Builders Association (Keynote Address).
Utah Water Law Conference - CLE International.
Utah Eminent Domain Update - Utah Land Use Institute.
Utah Impact Fee Seminar - Utah Land Use Institute.
Utah Land Use Institute, Fall Conference.
Interests
History of the Intermountain West
Utah and Idaho architectural history and preservation
Vintage and classic automobiles